Remember the self-tightening shoes from Back to the Future II? Well, these Japanese AR shoes are nowhere near that functional or cool. If you went down my list of things I want AR to help with or improve I can guarantee that "let me point my phone at them for some reason" isn't even in the top 200. But alas, footwear company Onitsuka Tiger didn't consult my list before they decided to create the first pair of AR shoes dubbed the Anrealage Monte Z.
At first glance they look just like any ordinary pair of black and white sneakers, but don't let their pedestrian appearance fool you. When paired with a smartphone running the Anrealage AR app, the future unfolds right before your eyes. Yes, that's right, by pointing your phone at your shoes you can…wait for it…make a logo appear with music playing in the background! Check it out!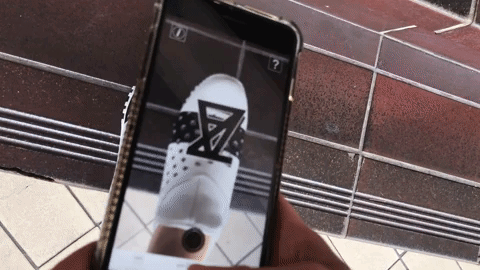 Sarcasm aside, it's interesting to see a company embracing technology like this even in its most basic form. According to Mashable it barely worked and was incredibly underwhelming in practice (as shown above.)
And in the shoe's manual itself, it even explains that, "[The] AR app becomes less reactive due to factors such as wrinkle, brightness, shadow, angle and distance," meaning the technology is clearly experimental and not very accurate yet. Watch this snazzy trailer if you want to see some stuff mostly unrelated to the shoes or the app or AR or anything at all:
What do you think of the idea and the shoes themselves? Let us know down in the comments below!