At last! Our collective voice has been heard and the powers that be have granted virtual reality fans their one true desire. No, not increased resolution; no, not a positionally tracked wireless headset; no, not a pay-per-view cage match between Palmer Luckey and Gabe Newell (fingers still crossed on that one, though.) That's right! As of today, we are happy to report that you can now purchase a VR ping pong experience that includes both multiplayer support and beer pong all together in one package.
This miracle of miracles is appropriately titled Paddle Up and released today on Steam for the HTC Vive. Paddle Up offers a litany of game modes including solo-play, vs. AI,  multiplayer support.
This means that the days of pretending to be friends with boring old Dale from next door just to play on his table are over! Now you can sharpen your skills by yourself, or play a round or two with your actual friends while Dale watches with tears from the window (as it should be, that guy is seriously the worst).
We reported on a VR Beer Pong experience previously, and there are plenty of other similar games on Steam, in addition to table tennis in Rec Room, but this appears to be the most feature-rich and complete experience of its type thus far, which is great considering it's still in Early Access. And that's a sentiment the game's creator, Pavel Jamal, echoed in an email with UploadVR.
"We've compared ourselves to all our competitors as they released while we held back," Jamal said. "First call out I want to make is polish, none of the other products feel polished and you'll have a different experience here. Easiest comparison is just features. Paddle Up brings multiplayer, accuracy challenge, beer pong, and multiple practice modes that will help you train in table tennis. None of our competitors can touch the level of quality of our multiplayer alone, and we have even more modes in the pipeline. We've also taken a different approach with physics compared to everyone else, we've taken everyone's expectation of what a table tennis physics should feel like and turned them into different paddles. We're a believer of no one paddle fits all."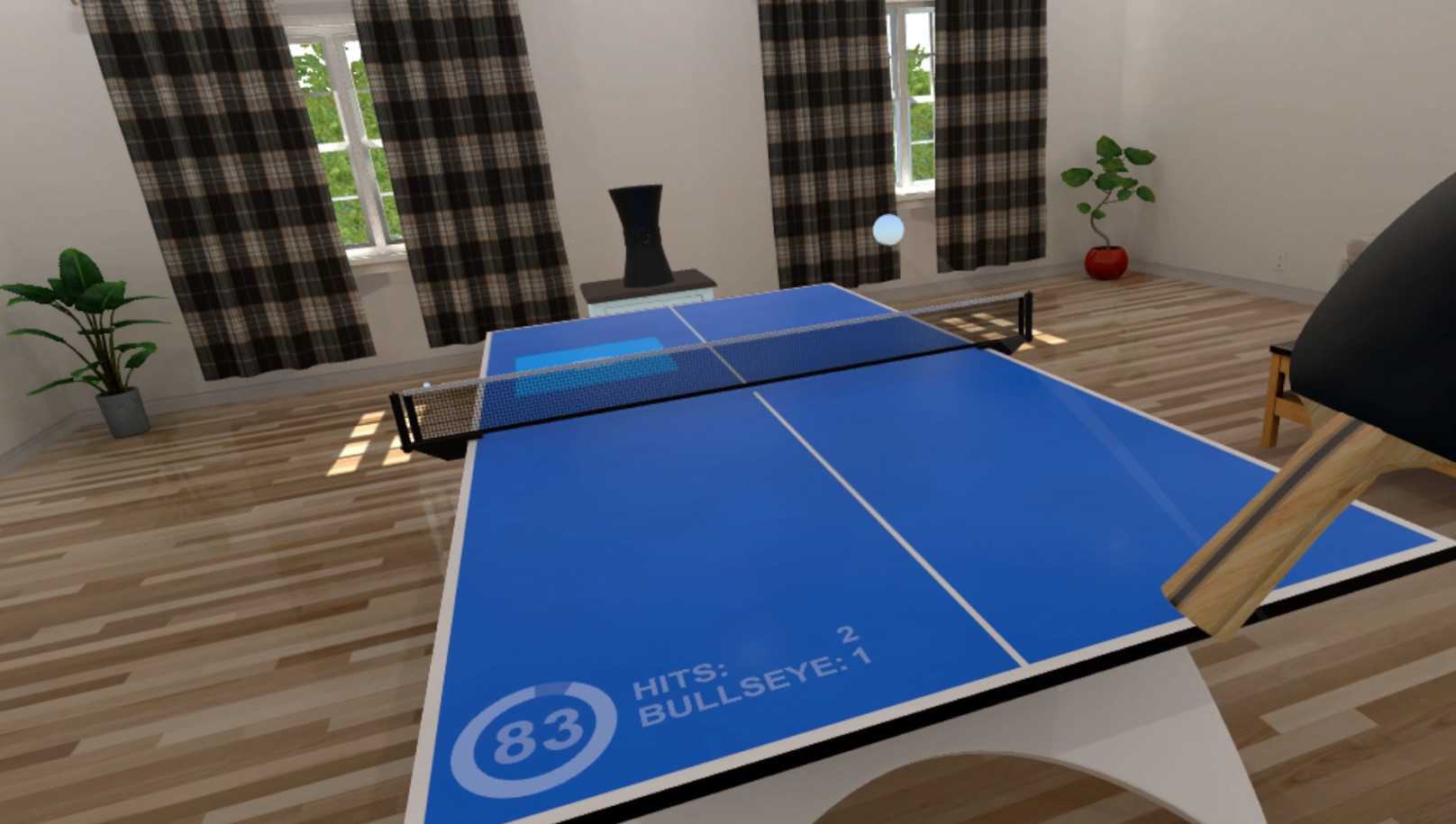 More features would go a long way towards solidifying Paddle Up as one of the best multiplayer experiences for Vive, even though it already has a robust list. In addition to standard table tennis physics with standard multiplayer and singleplayer-versus-AI gameplay, there are challenge modes like Bullseye to improve your accuracy, a practice mode with ball shooters, customization features like locales, hats, and other ball types, as well as the aforementioned beer pong mode. Planned additions include tournaments, more locations, and a more developed 'story mode' of sorts.
"Expectations were the most difficult part of the development, everyone had a different expectation on how the paddle/ball physics interaction should feel and we always had contradictory feedback to work with," Jamal said. "This led to us constantly iterating over the physics while still not feeling close to a shipping product.
"Multiplayer was another big challenge, latency is just a fact we had to work with so from the very beginning of the development we kept our latency simulated to 100ms. We knew this 100ms had to go somewhere, and we've made trade offs and focused on making sure you as a player feel that the way latency is compensated for is fair. At high latency you will definitely see some lag, but you won't think that it's hurting your game. At the end we've had successful multiplayer matches between Seattle, WA and Germany during beta and that was a big sigh of relief that it worked, and it worked so well."
Paddle Up was developed and published by indie developer Pavel Jamal. It is currently in early access on Steam and is targeting "late 2016" as a release window for the completed product.
See kids! Dreams do come true. Now keep wishing because I need to see WWE Raw: Palmer "Lucky" Luckey vs. Gabe "The Sequel Crusher" Newel ASAP.